Written by Serendipitymom12
I have decided to take Jacque's challenge for the first time. She has a wonderful blog and one of her activities is called "Saturday Psalm &Praise!" Go visit her wonderful website when you get the chance! She is a very wise and Godly woman!

I will post the lyrics to a song that I have always loved since I was young. I used to have a Twila Paris cassette tape and I would play it in my car. This one is called "Watch and Pray." Enjoy!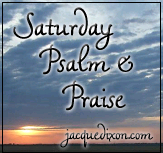 "Watch and Pray"

The enemy roams
Like a roaring lion
Looking for the sleeping
Looking for the sleeping
When he comes here
Let him find us keeping our promises
Holding to faithfulness
Down on our knees, eyes to the east
Watch and Pray
No one knows the moment
No one knows the hour
Or the Day
Watch and Pray
Til you see him coming
Coming through the clouds in white array
To take his bride away
The king will appear
With a shout of glory
All the earth awaking
All the earth awaking
Until he comes
Let us keep on taking the highest ground
Listening for the sound
Down on our knees, eyes to the east
(Repeat Chorus)
Behold the bridegroom
Behold the bridegroom
He is coming soon
Prepare him room
(Repeat Chorus)
4 Comments:
November 29, 2008 at 6:18 PM

 

I'm glad you did the meme this week. I hope it gave you time to pray and worship. Excellent choice for a song. I've heard T Parris, but I don't think I've heard these song.

(((HUGS)))

November 29, 2008 at 10:08 PM

 

I used to have this tape, I am sure. Jocelyn would remember this song if I could find it and play it for her.

Great words, and a really neat photo too.
(((HUGS))) Charlene.
:)

J

December 2, 2008 at 5:14 PM

 

great selection this week! I enjoyed reading it. I dont think I have heard it before though. :)

OK... I see your Meez girl in your sidebar and tried to make out what she is saying... what is she saying? :)

Love,

Miss Amanda

The Daily Planet

December 2, 2008 at 6:19 PM

 

Lol, the Meez is supposed to say "Hi, Nice to meet you" but it is glitching and only says "hi you!" Haha ;)