Written by Serendipitymom12
I have this new desire to strive to be a Proverbs 31 woman. I want to dress the part too. I decided that I will wear dresses more often and skirts as well. It is so feminine to wear those things. It also makes us carry ourselves differently and feel special. Everyone who knows me knows that I am a denim jean girl but it's exciting to make a change. The only drag is that I'll have to shave my legs. ;)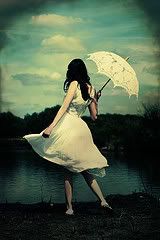 3 Comments:
Sisterlisa said...

May 4, 2008 at 5:28 PM

 

LOL That's funny about shaving! I like dresses and skirts too. Miss Jocelyn is having a "Feelin' Feminine Challenge

here

johnboy said...

May 5, 2008 at 11:00 PM

 

*wolfwhitle!!!* ;)

Martha said...

May 6, 2008 at 4:39 PM

 

Try waxing your legs!

From personal experience, don't try to do it yourself! The wax wouldn't come off and I was stuck to the bedsheets at bedtime.. oy vay!

Funny but.. yeah...