Today was one of those days.

I woke up the kids from their nap and hurriedly wrapped a gift for a young boy's birthday party that was starting in a half hour. I drove the kids to the edge of town only to realize I was a day early for the party.

Then I felt bad for the kids and decided to drive them to a park that we saw from the road. We walked quite a distance to arrive to this new park, but realized it was a dog park, not a children park. We walked all the way back to the van.

I drove away and noticed my gas was empty. I pulled over at a gas station with my key in my hand, and as I came back to the car, I realized the key wasn't in my hand anymore. I looked everywhere, and even dug through the very 'sanitary' garbage can. The kids and I were stranded at the gas station for a good while until my mom got a ride and brought me a spare key.

And I came home, and nearly fell over the front door when my heels got stuck between the wedge at the door.


Ever have one of those days? :/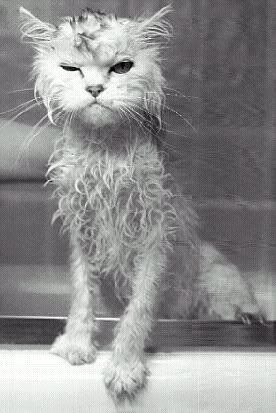 12 Comments:
March 20, 2009 at 5:54 PM

 

((snicker))

.....

((snickers again))

...

Okay I know I am supposed to feel bad but as your sister, I don't :D maybe you jinxed yourself when you commented on my blog, "losing weight IS easy!"

Show off ((mutters))

Want my helmet? I put pretty stickers on it :)

March 20, 2009 at 5:56 PM

 

Awww! what a day! Now get a cup of hot coffee with Hazelnut creamer and sit with your blessings and love on them! then get on twitter and facebook and visit with moi! :)

"Weeping may endure for a night, but joy cometh in the morning." -Psalm 30:5

Love,

Manda

The Daily Planet

March 20, 2009 at 6:11 PM

 

You poor thing! This would be a perfect post for the "Not Me" Monday Meme! Ha. Bless your heart.

Tomorrow is a new day! I pray it will be much better!

March 20, 2009 at 6:16 PM

 

You poor thing! ((hugs))

March 20, 2009 at 7:11 PM

 

Oh, you poor thing (and your kids too!). As bad as I feel for you, I'm laughing. Not nice, I know. ;) I think the cat picture says it all. I HAVE had those days!!

Hey, btw, I have a little something for you at my blog!

Many, many blessings to you this weekend! (Hope the birthday party is fun!) :)

March 20, 2009 at 7:17 PM

 

Wow, that was a day. Hoping that you have a wonderful weekend. Take it easy. I was just browsing your blog. Wonderful place you have here. Your boys are so cute. Hope you don't mind if I follow along:)

March 20, 2009 at 7:31 PM

 

Oh, my gravy! What a day! Bleh!

You know, wedges are never good. Neither are wedgies, both of which wreak unexpected havoc on your accessories and your undergarments.

Although, I must say, I prefer wedgies over wedges, as the former can be fixed for free.

Not that I do that.

In public, anyway.

Beware.

:/

March 21, 2009 at 6:53 AM

 

Those days certainly come. I like the picture of the cat. It goes along so great with your Bring on the Rain. The rain drenched you yesterday, but I know you depend on God to get you through the storms.

March 21, 2009 at 8:45 AM

 

Hi Charlene! I pray today is going much better for you!

I hope you'll join the blog party. I have picked up a couple of new followers this morning and met a bunch of Christians out there.

Bless you today!
Beth

March 21, 2009 at 10:12 AM

 

lol that is awful, but funny. Just another day to be thankful that God is in control. :P

March 21, 2009 at 4:18 PM

 

aw yep I have!

I have been in Wal-mart and noticed that I had on 2 different pairs of shoes!

then the very next time I was in Wal-mart again... I had put my shirt on backwards!

LOL!!!

sounds like you had a bit more of 'oops' on your plate this day though!

too funny.... a dog park?

March 22, 2009 at 4:01 PM

 

Awww you poor thing..:P I am so sorry!

"i wonder what you boys thought every time something bad happened"

Anyway I hope that you had a better day!