Written by Serendipitymom12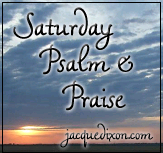 I have loved this song growing up too. Another Twila Paris favorite, and it's called "Faithful Men." It is encouraging for us to go and preach the gospel to all the world. The Lord is coming soon.
"Faithful Men"
Come and join the reapers
Come and share the harvest
Help to light the darkness
p.s. I am writing a big blog soon about the most incredible day I had today!! Keep an eye out! :)
3 Comments:
MrsD/Jacque said...

December 20, 2008 at 6:18 PM

 

HUGS Charlene!!
Love, J

Clara Van Nattan said...

December 20, 2008 at 6:28 PM

 

Looking forward to reading your long blog about it! :) (I'll probably cry again, knowing me - I cry about all those wonderful things that happen to God's children!) :)

Judy said...

December 20, 2008 at 7:20 PM

 

God does call us to go out into the world and teach others about Him. I'm waiting to hear about your great day! It sounds like a great day of blessings from God.