Written by Serendipitymom12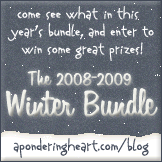 Miss Jocelyn is having a Winter Bundle Giveaway at her blog, A Pondering Heart! There are $700 dollars worth of giveaways and many awesome prizes!! Go to her blog and see how you can enter!!
2 Comments:
December 29, 2008 at 4:59 PM

 

Thank you for announcing this! I can't wait to post some of the reviews/giveaways!

Jenn said...

December 30, 2008 at 7:19 AM

 

I just finished reading through your most recent posts! What an amazing and heart rendering testimony you have. I found your blog through your sisters and I will be following both of you. You both are wonderful testimonies to the love of our awesome Saviour.